Atlanta Mold Testing is a company of highly trained mold inspection specialists right here in Atlanta. We provide an unbiased means of mold inspection. This means we do not perform mold remediation but will assist you in detailing a step-by-step protocol of how to remove the mold, whether that be through a mold remediation service or by yourself. Most home-owners, home sellers, and/or renters/rentees should have a mold inspection done as to be sure there are no unexpected hazards in the future.
We have certified mold inspectors that will come to your home or property and inspect it thoroughly.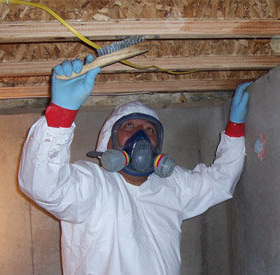 We begin with a visual inspection to find areas of mold contamination or possible mold contamination. We focus on areas where leaks or high moisture levels are suspected. Our mold inspection specialists shall use tools like infrared cameras and moisture meters to determine where these potential areas of concern are located. We then will take samples such as air samples and samples of mold off of the structure and send it to a AIHA certified lab for further testing. Once the lab has tested the mold and air samples they will send us a detailed report on things such as:
Elevated levels of mold
The amount of the mold growth
The species of the mold
and more…
Atlanta Mold Testing strives to provide you with 100% satisfaction. We will give you the best possible mold inspection & testing service in Atlanta. All of our Atlanta mold inspection specialists conduct mold inspections and mold testing in accordance with accepted IICRC, EPA, AIHA, ASHRAE, NIOSH, NYC and OSHA guidelines and recommendations regarding indoor environmental quality.
Get a Mold Inspection Now Call (404) 585-7906
---