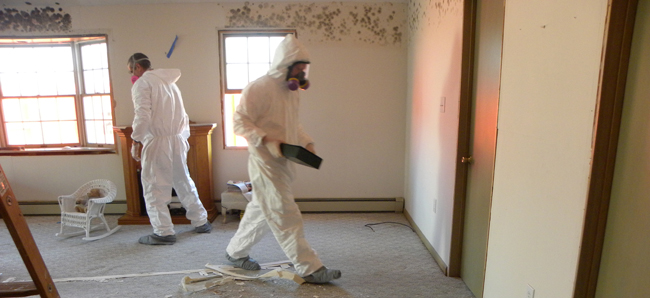 Atlanta Mold Testing is an unbiased Atlanta mold inspection company. We do not perform mold remediation. It is possible for a company that offers both testing and remediation to skew the results in a way to charge more for the remediation. There are cases where you yourself could remove the mold without the hiring of a mold remediation company. Our Atlanta mold inspectors are highly trained and will collect the samples and send them to an AIHA accredited lab for analysis. Once the samples are analyzed by the lab techs they will send a detailed report to us. With the information within the report our certified industrial hygienist write a detailed protocol listing on what needs to be done to remediate the mold problems you have. In the majority of cases the removal of mold should be done by a professional mold remediation team.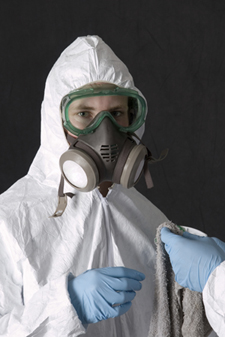 The Mold Cleanup Process
Chemicals called biocides are used to kill mold and fungi. They are also used with the removal of dead mold. Removing dead mold is critical because it can still leave behind proteins and chemicals that are hazardous to your health. Your home's surfaces such as any glass, woods, metals, etc. should be cleaned with a biocide in order to kill any mold growth. A professional mold remediation team in order to protect themselves from airborne toxins and contaminants will be dressed in protective clothing.
After the initial cleanup process is completed the next step is to use a HEPA vacuum to clean up any dirt and debris left behind. The mold remediation team will remove the dust/debris in containers and bags that are impenetrable by the dust and dispose of it in a way that is safe for you and the rest of the world.
Any pieces of home or property that cannot be saved will also be disposed off in a way that is not hazardous to you or the rest of the world. This is done by placing them in non-penetrable bags and/or closed containers. After this has all been accomplished we will send our mold inspection specialist back to your home to take final samples of the air and surfaces in order to assure that the mold has been completely removed.
For any questions about the testing and/or removal of mold, contact us
(404) 585-7906